Coaches corner – finals 2017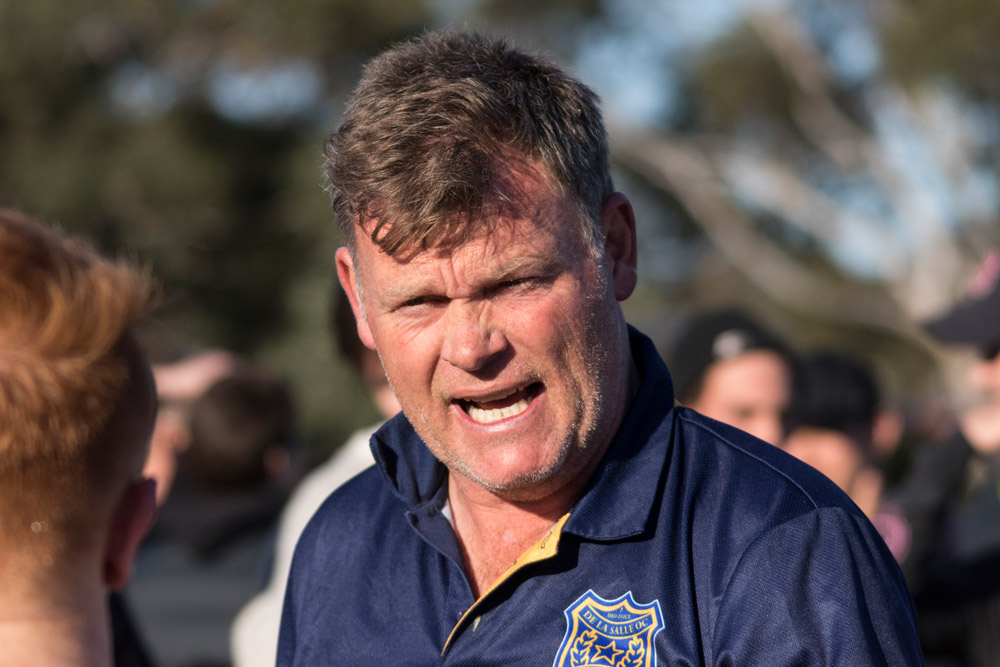 Seniors
by Paul Satterley
Elimination finals are do or die and unfortunately for our lads we were not up to the challenge for the four quarters.
We jetted out to an early lead and were doing more things right than Collegians, we had effort all over the ground complemented by composure and finish for goal. The quarter time score of 5.3.33 to 1.1.7 was as good a start as we could have wanted.
In the second quarter we continued the early momentum, but some really poor decisions combined with missed opportunities allowed Collegians back in the game and we only had ourselves to blame.
This resulted in a six goal quarter for our opponent, totally erasing all of our great early work and at half time our lead was reduced to just two points.
During the third quarter Collegians kicked the first three goals and were scoring way too easily. Our lads fought back to regain some momentum which was a credit to them, but we still missed shots, kicking 3.4 to 4.1.
Collegians were far more efficient and we trailed by one point at the last change.
While we continued to give effort and had seven last quarter scoring shots, inaccuracy again hurt us. Collegians kicked 5.1 behind to our 2.5 to get the win by 15 points.
Tom Humphrey and Jake Gotch were the two standout players for us on a day where just too many players were down. We were unable to stop Collegians' momentum midway through the game.
It's a disappointing result after all the hard work we had put in to earn a finals place.
I'd like to wish the Golds the best of luck in their Grand Final and say well done to the Dino's on their premiership win.
Final scores: De La Salle 12.14.86 lost to Collegians 16.5.101
19 Blues
by Nick Hyland
We took a trip to Elsternwick Park to face Beaumaris in a preliminary final. It was going to be a huge task, taking on the benchmark of the U19's and we were excited by the atmosphere and terrific weather.
It was building up to be a terrific contest. We felt like we had prepared well during the week and were ready for the contest.
The first quarter was a high scoring affair, but the ease with which Beaumaris were able to score was extremely frustrating.
Had it not been for some Fasoulis magic up forward, we would have been almost out of the game by quarter time. We lacked intensity and aggression at the contest and Beaumaris really made us pay.
Unfortunately, the day only went from bad to worse. We had no answer for the opposition's fire power up forward and we couldn't win enough of the ball around the ground. O'Callaghan was terrific all day on ball, but we just had too many blokes have "off" days and too much was left to too few.
Our best were O'Callaghan, Fasoulis, Colak, Catrice, Ahearn and Mackie.
In the end, a disappointing end to what has been a promising year. We will learn from this result – we must match any opposition's physicality and be prepared for hard finals footy.
I couldn't be prouder of the boy's effort throughout the entire year. 49 boys were able to get a taste of Premier U19 footy, which is a huge positive going forward.
We thank everyone for their support throughout the year and we are looking forward to 2018!
Final scores: De La Salle 11.13.79 lost to Beaumaris 23.22.160
Colts
by Steven Ingram
With a final six in U19 Division 5, the Colts came off a bye in the first week of finals keen to take on MHSOB with the winner to progress to the Grand final.
We started well and kicked the first goal courtesy of a long bomb from Jordy Brasher, but we seemed a bit tense and rushed which affected the way we moved the ball into our forward line.
With only one goal in it at quarter time the game was there for the taking. However it was MHSOB who got on top, winning the contested ball and providing their forwards with plenty of opportunities. Nick Jarvis was playing a great game at full back on their leading goal kicker, supported by Ruben Beeby and Curtis Day, however the weight of numerous incursions saw them kick six goals to our two for the quarter.
We were five goals down at half time and boys had a resolve to persist and take the game on in the second half. But MHSOB increased their work rate, dominating the quarter to have an unassailable lead at the final break.
The game was out of our reach but we committed to keep at it and played the game out. Overall the MHSOB boys were too dominant on the day and will be right in next week's Grand Final against Old Camberwell.
Our better players on a tough day were Nick Jarvis, Cam Roberts, Kye Morganthaler, Curtis Day, R. Beeby and A. Martuccio.
I would like to thank Trish Howe for an outstanding job as team Manager, Tom Roberts for assisting and running rotations, Phil Brasher not only for his expertise as our trainer but also his valued footy advice, Bernie Squires for the smorgasbord of fruit and lollies each week and Greg Gill our timekeeper. To all the parents who helped out during the year, thank you.
All the Colts will be supporting the Golds this week in their quest to bring an U19 premiership to the club. Go Golds!
Final scores: De La Salle 10.9.69 lost to MHSOB 21.19.145