Coaches Corner Round 11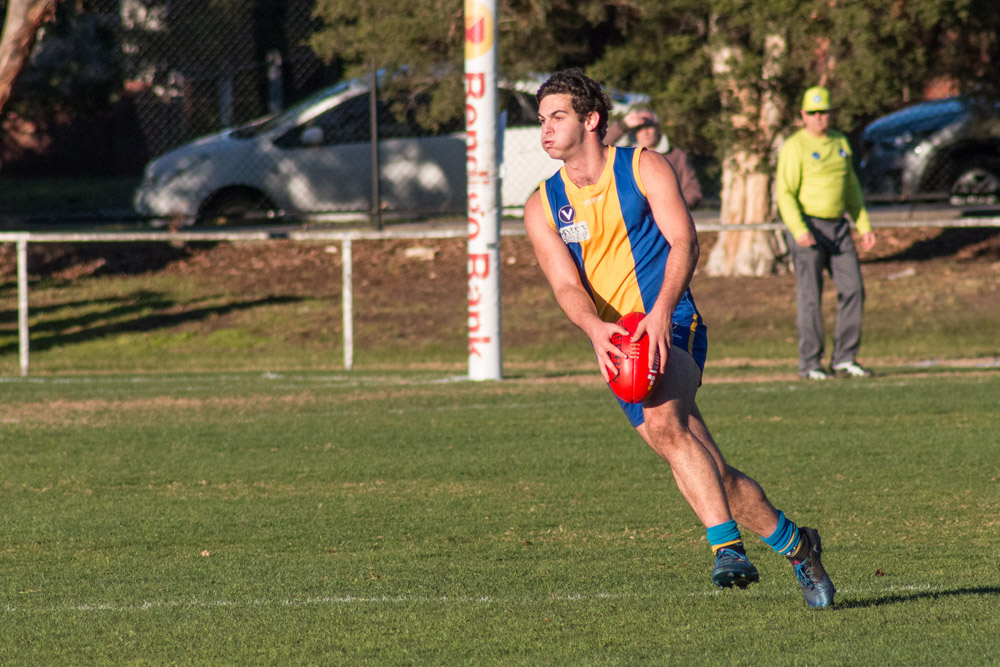 Click here to view the round 11 photo gallery
Seniors
by Paul Satterley
We came into this game knowing a win would put us back into the top four… And the only thing standing in our way was the reigning Premiers, Old Xavs.
We had two late withdrawals – our little pocket dynamo Ed Clinch and key tall Ant Forato were both unavailable which provided opportunities to Jordy Bull and Cal Dooley.
We kicked against the breeze in the first quarter and showed signs that we could challenge Xavs with our run & carry, but we just lacked some composure in general play creating turnovers. We defended well before allowing two late goals which resulted in a Xavs lead, 3.3.21 to 1.1.7.
In the second term Xavs caught us napping and made us pay by kicking two quick goals, opening up a lead of 26 points. Credit to our lads though, we worked back into the game slowly but surely with Frank Pickett leading the way up forward and Tom Humphrey negating Handley down back.
We managed to scrap out the quarter edging closer and by the siren were only two points down.
We really started to challenge Xavs with our spread, Jason Tutt, Ben Nethersole, Sam Williams and Matt Fieldsend all heavily involved. Our forwards were working super hard to lock the ball inside 50 and our defenders were setting up our play with Robinson, Joe Black, David Convery, Sam Michael and Sam Haslem all playing their roles.
We kicked three goals into the breeze, including a very late one by Frank resulting in only a slight nine point lead to Xavs at the last break. We felt we could match them with our intensity around the ball.
In the last quarter we started well, with skipper Tom Humphrey kicking a clever goal. We gained momentum and were moving the footy with improved execution complemented by a high tackle count with all players doing their bit. Sean Fisher kicked a couple of much needed classy goals.
We held out our opponent and had nine shots on goal for 3.6 whilst holding Xavs to just 1.1 for the 30 minutes, getting home by eight points.
This win was a really important one for us with a bye next week, but most importantly we were celebrating the 200th game ofclub stalwart Jake Gotch.
Good luck to our possible VAFA representatives Jason Tutt, Sam Williams & Tom Humphrey.
Go Dees!
Final scores: De La Salle 10.13.73 defeated Old Xavs 10.5.65
Reserves
by Jack McDonald
Well, what a tough day this was. To say we were outplayed would be an understatement as the twos were totally outclassed by a well drilled Xavs outfit.
Our lads fought hard, but to be honest at times it looked like a training drill for Xavs. They played a really good brand of footy.
Again we were hampered by a couple of late changes and we chased the game all day, kicking our only two goals in the last quarter.
Some of our better players were Ryan McDonough, who again rucked most of the day. Liam Bisognin continues to impress with his work rate and ability to fight it out. Garrett McDonough kept the leading goal kicker of the reserves competition to two goals – a great effort. Our defenders were up against it all day, but led by Tyson Parker they can hold their heads high.
A bye next week will help us freshen up and hit the ground running in two weeks' time against St Bedes. A win will be welcomed by all.
Onwards and Upwards!
Final scores: De La Salle 2.2.14 lost to Old Xavs 17.13.115
19 Blues
by Nick Hyland
We travelled out to the snake pit to take on the always challenging St Bernard's. Welcoming back Morgan and Murphy added some real strength to our team. We kicked with a strong breeze in the first quarter and were able to make great use of that advantage. Our ball use was good and we were in control, kicking seven goals to one.
The second quarter was always going to be a real challenge kicking into the strong breeze. Our intensity around the footy dropped off and had it not been for the skill errors of St Bernard's we could have been in real trouble.
The boys were challenged at half time to be ruthless and really get on top. We wanted to control the game and get it on our terms and to their credit, that's exactly what we did. 5.7 wasn't ideal, but what was most pleasing was keeping the opposition scoreless.
The last quarter was workman-like. We ran the ball into the wind and were able to hit the scoreboard. In the end a pleasing win and a great sign that we were able to put a few tough weeks behind us and get our season back on track.
Best players were Colak, Shannon, Murphy and Jakes.
Final scores: De La Salle 16.16.112 defeated St Bernard's 5.2.32
19 Golds
by Martin Kelliher
Playing against St. Bernard's is never an easy task and this week was no exception for a Golds side looking to reverse our early season loss. Last time a physical Snow Dogs outfit bullied and shoved us aside, but this time the players were determined that would not occur and they would meet the challenge head on.
We opened up with two very quick goals, but then released our foot from the throats of our opponents and let them force their way back into the contest. This made for an absorbing contest, but one that was shredding the nerves of the coach.
At the main break there was some argy-bargy when the Bernies decided to flex their muscles, but this only served to spur the Golds players on and harden their resolve not to leave empty handed.
In the last, we were defending a four goal lead, but kicking into a very strong breeze and when we conceded early it looked grim, even more so as we had lost Tom Harrington to an ankle and midfielder Jordy Gregory to a hyper-extended elbow.
But we then took control of the game, continually pushing the ball forward. With more care and luck we could have really put the game beyond doubt, but we held on for a very significant victory.
This was a terrific team win with many contributors. To sum it up – wins like this one can sometimes define a season, and we hope this can prove to be one which could launch us deep into the post season.
Final scores: De La Salle 10.11.71 defeated St. Bernard's 8.8.56
Womens
by John McDonough – the happiest Coach in the VAFA
Still on a high from last week's win, we had a good week on the track and seemed set for the challenge of playing St Kevins, who had claimed top spot last week in our division (and also have a senior team in the Premier Womens division, also on top).
Their class was on display from the first bounce. Fast, strong and with a number of players who can kick the ball a long way.
We had our hands full all over the ground and went into half time down by 25 points. Lee Brown registered our only major with a check side goal in the second quarter.
The second half was all about effort and the decision to either stay in the game or let it get away from us. It was pleasing to see we kept St Kevins to just 1.3 for the half and created plenty of opportunities to score ourselves.
The game was played mainly through the middle and we lifted our tackle and intensity around the footy. It was a great learning experience to play such a good team and should set us up well for the remaining three rounds.
Chelsea Nurthen and Brooke Robertson both played well and were strong around the contest.
Sally Fyfield rebounded everything from half back and again led our tackle count.
Michelle Ball had a great game down back and Steph McMurray rucked well all day.
Also in the best were Carle' Rooks and Claire Clarke.
If we are to make a run for the finals, next week's game against Swinburne who are third on the ladder is a must win.
All up, it was another great day of women's footy.
Final scores: De La Salle 1.3.9 lost to St. Kevins 6.6.42
Colts
by Steven Ingram
The Colts missed out on a game for the second time this year after Fitzroy forfeited.
Warriors
by Rob Breda
De La Warriors took the points after Parkdale forfeited.
Dino's
The De La Dino's continued to run the table, taking the show on the road to Laurimar and overcoming a determined opposition to collect the four points!
In typical Dino's fashion there was a strong defensive effort which formed the basis of the victory. Ben Corin, Macca, Pauley, Yappa and Knighter and several others who rolled through during the course of the day were outstanding.
Iggy, Tillsy and Chapps also ran wild in the midfield and up forward!!!!
Getting this result while having quite a few players out of the side just goes to show how our depth has improved since last year. To come away with the four points from a venue which has more recently been a difficult place to win is very pleasing.
The Dino's are back in a fortnight to play Point Cook at home!! Entry is free and the show is very entertaining!!!
#dinofooty
Final scores: De La Salle 6.5.41 defeated Laurimar 7.8.50