Coaches corner round 17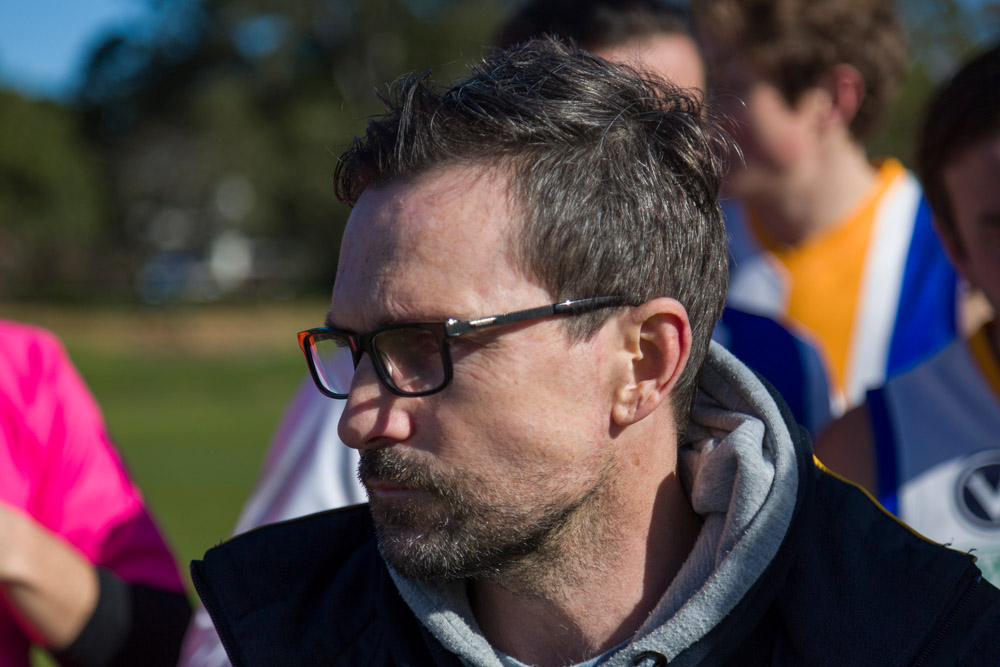 Seniors
by Paul Satterley
Round 17 presented us with an opportunity to lock away a place in the top four against Old Melburnians.
From the outset we showed we were up for the fight, with all players throwing themselves into the contest. Unfortunately we didn't take all our early chances, kicking 3.7 whilst conceding two goals.
In the second quarter we improved our efficiency all over the ground and had a heap of the ball. We kicked 6.1 to extend our lead to 44 points by half time.
OM's are highly regarded as a very competitive club so we expected a response. They reduced the margin to 28 points before we regained our momentum and finished off the quarter to lead by 45 points.
The final quarter was fought out to the end and we finished with a 48 point win, cementing a finals spot regardless of any Round 18 results.
All our leaders in Tom Humphrey, Sam Williams, Frank Pickett, Jake Williams David Lowe, Jake Gotch & Sam Haslem led the way.
Jason Tutt was in everything despite getting close attention, Ed Clinch had a standout game kicking five goals and Adrian Indovino played his best game for some time.
Our young players in Michael Griechen and Liam Murphy have come into the side midyear and established themselves very quickly.
Most importantly, we played a brand of footy we have worked hard to achieve all year and all of our 22 players contributed on the day.
Well done to our lads, we look forward to the remainder of the year.
Final scores: De La Salle 18.11.119 defeated Old Melburnians 11.5.71
Reserves
by Jack McDonald
We turned up to take on OM's who were third on the ladder. We had a good side in and were confident we could put on a good show.
With the addition of a few senior players the boys were confident they could push OM's but as has been the case for most of the year, we lost two players in the first 15 mins – Jack
Vickers hurt a calf and Simon Lowe took a crunching hit in a marking contest. At quarter time we were down by five goals.
The boys were working so hard. We knew they would fight the game out. At half time we learned that Tyson Parker had badly injured his hand and he took no further part in the game. So our backs are well and truly against the wall.
Again Luke Williams and Ryan McDonough were having a real crack and I don't think Oscar Persson lost a ruck contest all day.
Down 45 at the half, we urged the boys to fight the game out. Five minutes into the last quarter we lost Dave Marchese to a heavy knock and were left with no rotations, making it tough.
To the boys credit, they fought it out to the end and were really brave. After half time OM's kicked eight goals to our four, a great effort considering the circumstances.
Again our young blokes were really competitive. There's one game to go and we're looking forward to taking one more scalp
Onwards & Upwards!
Final Scores: De La Salle 7.4.46 lost to Old Melburnians 18.10.118
19 Blues
by Nick Hyland
We travelled out to Essendon to take on St Bernard's in our last home and away round of the year, knowing we needed to win comprehensively to give us a chance of a top two finish.
St Bernard's, who had nothing to play for, were really up for it. Their intensity around the ball was good and had it not been for some inaccurate kicking we could have found ourselves in some trouble.
A slow start wasn't ideal. We weren't doing the fundamentals well and we lacked energy. We addressed this at quarter time and from then on we took control. Our intensity lifted, we bought our infamous 'heat' and our running game was up and about.
We started playing our brand which resulted in us really hitting the scoreboard hard and taking a handy 40 point lead into half time.
The second half was spiteful. St Bernard's employed their usual off the ball tactics and tried to get under our skin. Too our boys credit, we were disciplined enough to not do anything silly, knowing we have a finals campaign beginning next week.
In the end it was a comfortable 107 point victory. Unfortunately other results didn't fall our way, so we finish the season third on the ladder, 1.07% behind second place.
Our best on the day were Leontaritis, O'Connor, O'Sullivan, Aitken and McGaw.
We had a fantastic home and away season, finishing 13-5. We are extremely happy with that, however, that doesn't satisfy us. We have unfinished business and are looking forward to a well earned finals campaign knowing our best is good enough to beat anyone.
We play St Kevin's in the first semi final next week. We would love as many supporters there as possible to cheer on the next generation of footballers for this club!!!
Final scores: De La Salle 23.11.149 defeated St Bernard's 6.6.42
19 Golds
by Martin Kelliher
A day to forget by the Golds in their last home and away game. We capitulated without a whimper against a St. Bernard's team which was at its belligerent best and chasing a potential home final.
We may have not had much on the line this week, but with the players need to be aware that once you cross the white line, you need to be ready to play and you cannot just turn it on when you think it's ok.
In summary, the Golds had very few winners and lacked run, intensity and discipline across the game. In contrast, our opponents essentially grew in stature as the game went on. They bullied us in the contest, were allowed to run forward of the contest due to a lack of total commitment by us and deservedly won.
Once on top, they then sought to rub their dominance. With the full support of their partisan supporters and encouraged by a vocal and angry coaching staff they initiated a series of 'physical' spot fires which frequently crossed the line. It could be said we lost comprehensively on both scorecards; the football one and the marquis of Queensbury card too.
There were some positives on a tough day, but not too many. Liam Manakis was an excellent target up forward on a day when chances were limited, kicking four of our five goals. It was good to see Sauce Hounihan back on the ground too and Cadman and Melissinos were also in the best.
Next week the Golds will need to be much better as we take on SKOB in the second semi final. A win will see us straight through to the grand final.
Final scores: De La Salle 5.5.35 lost to St. Bernard's 13.19.97
Colts
by Steven Ingram
Our final home and away game was against MHSOB who were fighting to retain fourth spot.
In perfect conditions at Dairy Bell we were well off the pace in the first quarter, trailing our opponents who were well and truly outnumbering us at the contest. Fortunately, they did not take advantage of their opportunities, kicking 2.7 for the quarter and limiting their lead to a manageable one.
We got on track in the second quarter, played De La footy and held a small nine point lead at half time. It was a game of contrasting quarters and we knew what was required in the second half if we were to win the game.
We started the third brilliantly, winning the clearances and had two goals on the board against the slight breeze very quickly. But this is where it ended – after the first five minutes we were outworked and Melbourne High kicked the next five goals to lead by 10 points at three quarter time.
A great challenge was presented at the last change, but we again were out ran and outworked. We failed to kick a goal and lost by 13 points.
Our better players were H. Gustin, A. Martuccio, B. Melissinos, J. McCormack, J. Gregory and C. Day.
Our season ended with a well-earned and deserved second place after a finishing 13-5. We are very happy with that, but understand we need to lift our effort to succeed in the finals.
Final scores: De La Salle 6.8.44 lost to MHSOB 7.15.57
Warriors
by Rob Breda
After a tough loss in the second semi final the Warriors took on AJAX on Sunday for a spot in the Grand Final, with the loser's season ending at the conclusion of the match.
With a number of solid ins from the week before, we felt strong with a full bench and a great turn out to support us on our home deck.
We kicked with a strong breeze in the first and controlled the game from there. Going into the first change five goals up, we held AJAX to one goal in the second as we played the game on our terms into the breeze, slowing the game down and minimising their ability to score.
The match was set at halftime for AJAX to roll the dice and thankfully for us, we stuck to our guns and put enough distance on the scoreboard going into the final term.
By halfway through the last quarter the game was over and we were on our way into the grand final with a hard fought but comfortable win.
We face Old Scotch for the premiership at Sportscover Arena at 9.20 on Sunday morning.
Final scores: De La Salle 9.10.64 defeated Ajax 3.7.25
Dino's
By Peter Harrison
The De La Dino's have continued their unbeaten streak and marched back into the Grand Final!
In very wet and windy conditions the Dino's led from start to finish in a hotly contested match.
Led by an outstanding effort from David Spithill rucking all day, the Dino's tackled and harassed their way to victory. The midfield lead by Farms, Iggy, Philla, Tillsy and Chapps were determined and unflappable in their intensity at the ball and the contest.
The backline have shown no cracks all year and delivered another incredible performance. BC, Macca, Pauley, Marksy, Knighter and Troy stood firm all day and showed enormous strength in the last quarter when the game was in the line.
The forward half played a massive role in the victory, especially in the second & last quarters when we had to defend against the wind. Jimmy, Higgo, Al and co managed to contain and make life difficult for the opposition.
We now play Craigieburn in the Grand Final on 10 September 2017 at Casey Fields. At this stage we are awaiting confirmation as to what time the game starts and we hope to get as many supporters along as possible to cheer the Dino's on in our quest for Premiership glory!
#Dino's Footy
Final scores: Dino's 3.7.25 defeated St Kevins 2.3.15