Coaches Corner Round 2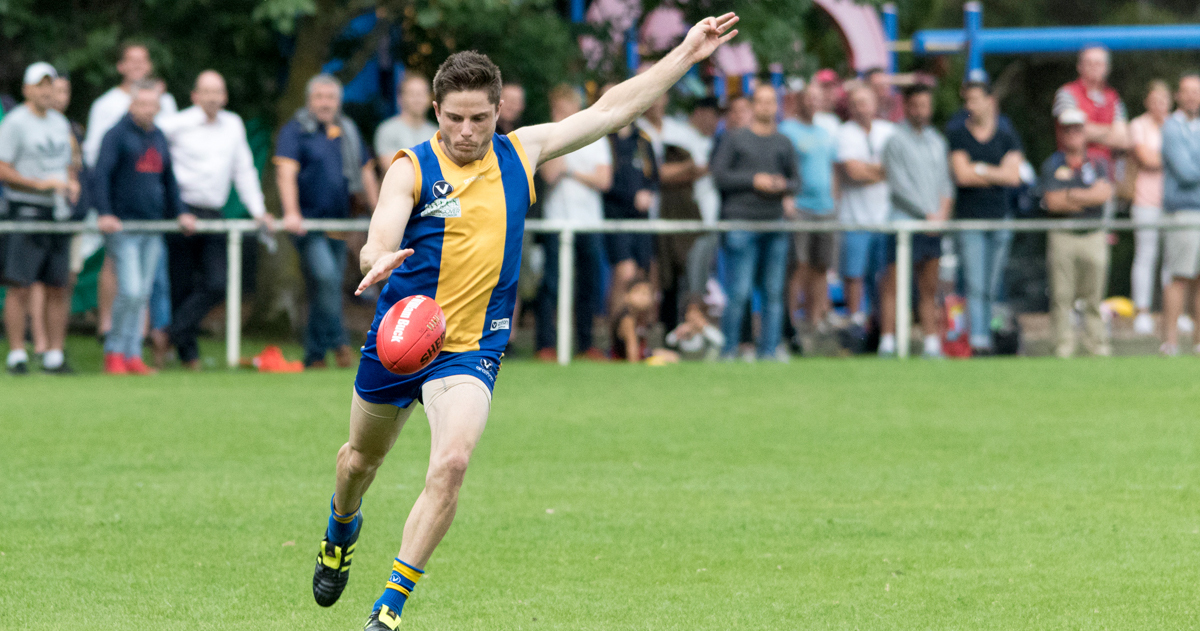 Seniors
View photo gallery
With first gamers Robinson, Scipione & Fisher all making their debut this week we had some positive inclusions leading into the game. There were some big losses though – Jordie Bull (suspended) & Tex Walker (injuerd) both missed and Ant Forato was a late withdrawal, he's yet to wear the blue & gold this year.
Our first quarter was particularly combative, reflected in our high tackle count. We dominated inside 50s but were unable to effectively hit the scoreboard, finishing with just 2.3.15 and only a slight lead.
Unfortunately our second quarter was sub standard, we were dominated in the ruck contest by both their skipper Lynch & new recruit Mark Jamar.
We leaked some easy goals and dropped off in our intensity around the ball.
Our defenders, especially our talls in Tom Humphrey, Gaz McDonough & Sticks Convery all held their own against the heap of footy coming in, whilst Sam Williams was playing a competitive brand of footy.
We needed to respond. In the third quarter we definitely improved our work rate, but we missed three simple shots on goal from inside 20 metres and that proved too costly. We could have been much closer going into the final term.
Jason Tutt, Jack Vickers, Matt Fieldsend & Jake Williams were all lively and set up most of our attack throughout the game.
We finished off the last quarter well, with Indovino kicking four late goals and there was some promising signs that we were prepared to fight out the match.
At the end of it all though, the four-goal final margin may have been somewhat flattering given that we did not play our best brand of footy.
Next week against Old Melbournians becomes an extremely important game as we seek our first win.
Reserves
We were all looking forward to a solid game from our boys at our first home game for the season. As our captain for 2017 Ryan McDonough led us out, we knew St Kevin's were always going to be a difficult assignment.
On paper we had a young side. We asked our boys to run at every opportunity – sadly we did a lot of running, chasing the game for most of the day .
Twenty points down at quarter time blew out to a 75-point loss, 16.15.111 to our 5.36.36. Our goal kickers were R.McDonough, H.Curtis, S.Vawser, H.Jarvis and L.Williams
To St Kevin's credit, they played a great brand of footy and our young blokes will learn a lot from these first two weeks playing Xavs and SKOBS, who look like two of the best teams at reserve level.
Our best players were:
David Lowe – Cracked in all day.
P.Burnell – Young up and comer
N.Taylor – Getting better as he plays more footy after tearing his ACL
S.Vawser – Gave everything he could
L.Williams – Always finds plenty of the footy
M.Martinez – Young Key Defender who offers plenty of run down back.
We're looking forward to next week – Onwards and Upwards Warriors!
Womens
The Girls were excited about the opportunity to play and represent the club on Anzac day. Huge thanks the East Malvern RSL and the De La Football community.
1st Half.
Caulfield dominated the first 20mins of football with good ball movement and quick entry into the forward 50. They pounded the scoreboard and to the girls credit they were just happy to be out there learning. We defended well and once we settled to the pace of the game we started to get things back on our terms. Our midfield who were outclassed in the 1st, reset in the 2nd and were rewarded for the pressure they applied.
2nd Half
Great 3rd qtr as we kept our structure for the majority and registered our first major. Our tackling was a highlight and we continued to get inside 50's as a result. The girls kept up the effort for the last qtr and we finished the game off really well.
Highlights
Lee Brown in defence was outstanding and continually rebounded us back into attack. Hannah Whittaker (first gamer) is a great find for the team and can play. Sally Fyfield in her first full game for De La was easily best on ground with a dominant 4 qtr performance.
Thanks to all who came down to watch. The girls did the club proud.
Next week – Saturday 11.00am Old Haileybury at Jordan Reserve (Last Grading game )
John McDonough – Happiest coach in the VAFA.
19 Blues
After a really positive round one performance we headed to Caulfield to take on the newly promoted Grammarians. Unveiling their premiership flag from last season, we knew they would be full of confidence and ready to take a premier team scalp!
We began well and bought the heat early. Our pressure on the ball and man was intense and our work rate was excellent. Kicking against a strong wind, we were able to use the ball efficiently and impact the scoreboard early.
In the second quarter we really wanted to focus on getting the game on our terms, controlling the tempo and playing our brand of footy. It was an extremely patchy quarter and to Caulfield's credit their intensity at the contest really picked up. We managed to negate that and through some excellent pressure in our forward half from Shannon, Jakes and Leontaritis we were able to create multiple scoring chances and head in to the main break with a handy six goal lead.
After half time we really dropped off. Our intensity around the ball fell away and our transition running was extremely lazy!! Caulfield definitely had the better of us throughout the second half and had it not been for some missed opportunities the game could have been in the balance.
In the end the boys did enough to register a solid win. Shannon was rewarded for his pressure and work rate with seven goals. Grundmann controlled the game from the back half and was well assisted by Deftereos and M. Lvosky.
We take the win and move on to Beaumaris next week, who promise to be a quality opposition and an exciting challenge.
19 Golds
After promoting four players to the Blues after an opening round win, the Golds played SKOBS (2) in a lopsided game, recording a 100 point win in the early game at Waverley.
Given round one's results, this game was probably never really in doubt, but overall it was a very scrappy, disjointed game with only brief passages of the clean and decisive play the Golds are seeking in our club.
We had a very wasteful second quarter, kicking 1.7 after too many players fell into the trap of going kick chasing. But the team responded well in the second half to try and play a more positive brand of running footy as they overran SKOB.
It could have been a more decisive win, but to the credit of an undermanned and outclassed SKOB they battled away and kept us honest for the game.
In terms of better players the major highlight was the eight goals of Dimi Fasoulis (who is surely destined for the Blues), supported by Harry Bowen and Josh Galbraith in the mids along with runners Pat Cook, Danny Melissinoss and James Mullaly.
There weren't too many consistent players, rather it was a series of cameos as players played in fits and starts.
The Golds players were satisfied with the win, but they know they are capable of so much more and have challenged themselves to improve. We look forward to them doing so.
That said, we are 2 and 0 and we have a chance to keep our run going when we play Beaumaris at home at 11.40… and we hope that a couple of blokes find time to buy an alarm clock to help them make the ground on time!
Colts – Steven Ingram
The colts had the privilege along with our women's team to represent the club on Anzac day. Thanks to the De La committee, East Malvern RSL and the huge number of supporters who got along to support our teams.
Looking at the round one results and with Glen Eira/Mckinnon being a standalone u19 team, it was going to be a great test to see where we are at very early in the season.
We started well in the first without getting any scoreboard reward before Glen Eira out worked us and through quicker ball movement took control of the game.
At quarter time we asked for an increased effort and we began to get our teamwork going and by the main break were back in the contest, trailing by a goal.
As the ground dried out from the morning deluge we saw a better standard of footy from both teams. There was only a couple of kicks in it during the entire second half but at the end of the day we went down by seven points. Glen Eira were the deserved winners on the day.
Pat Bohan in the ruck was great all day and gave us a target up forward, The whole defensive group were outstanding led by Jed and his younger brother Cam Roberts.
Matty Tyqs and Adam Martuccio worked tirelessly in the midfield and Ky Morgenthaler gave us great drive off half back and the wing.
There's plenty to work on and if we all work hard there is lots of upside and improvement in this team.
Thanks to Marty Kelliher for being an unexpected MC and runner, injured duo Mark and Joe for running water and Tom Roberts working the board.
Thanks too to Brian, Trish and Greg for taking on the TM duties.
And to everyone who got along and supported us, a big thank you from all involved with the Colts.
Dino's
No game for the Dino's in round two, so let's catch up on round one…
The Dino's took the show on the road to St Kevin's to open the season. A number of new players joined us for the first time, which reflected the significant recruiting effort we have gone to this past off-season.
Indeed – our founding father, The General, says this is the best group of players the Dino's have ever put together and feels that nothing short of a premiership would be acceptable.
After a very low scoring first half the Dino's received some stellar play from the likes of Dave Spithill, Troy Castricum, Chris Mercuri, Ben Corin and Jason Philactides just to name a few to run over the top of St Kevin's. The Dino's now sit atop the ladder with the "bye" this week.
Unquestionably, round one was a total team effort – that being said there is still a lot of improvement in the group. A special mention must be made of the defensive effort to hold the opposition goalless through the four quarters.
Our next game is at Hillside on 7 May 2017 @2.45pm, where we hope to continue our winning vibe and ways!
#dinofooty