Coaches corner week 17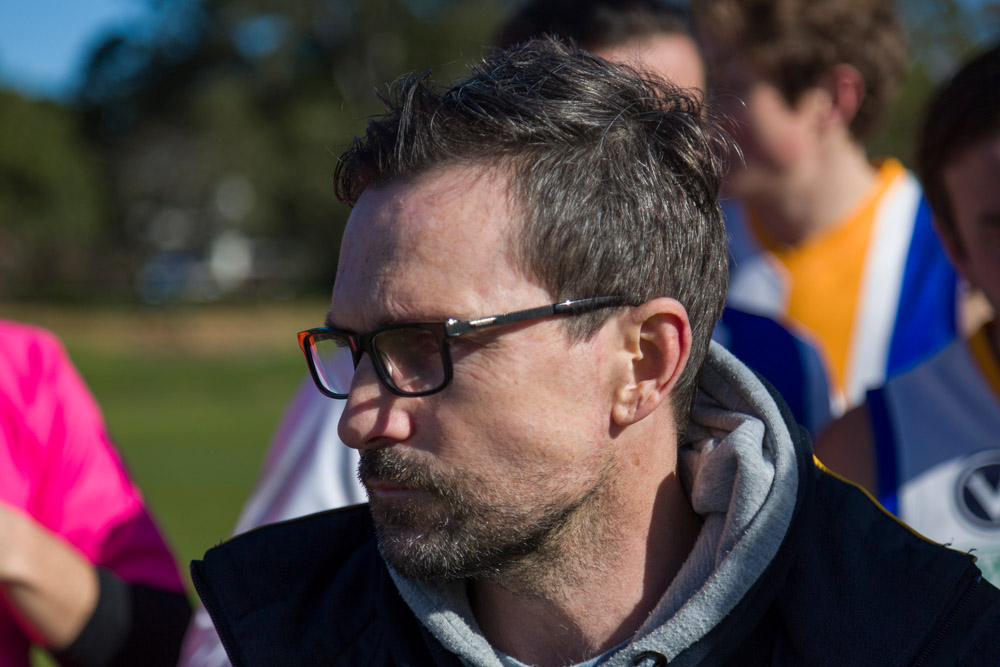 Seniors
by Paul Satterley
We played the second ranked Collegians away, knowing a win would cement a finals spot.
We started very well, a Vawser drop set up a snap and goal for Tutt. Frank Pickett was lively, we had all the play but we kicked 3.7 to 1.3. Indovino hit the post and had one touched that went through, as did Sean Fisher.
In the second term we had some poor moments with our execution. The quarter was riddled with turnovers from both sides but we scrapped out the 30 minutes and extended our lead to 24 points at half time.
We moved out to a 30 point lead by the nine minute mark of the third and had all the momentum – but then really lapsed for 20 minutes. The sloppiness in our disposal and decision making allowed Collegians to get back into the game and our inability to kick gettable goals really hurt us.
At three quarter time our lead had been reduced to just one goal.
In the end, Collegians were just too good for us in the air and kicked multiple goals from strong marks inside 50. As expected, we didn't throw in the towel, laying 34 tackles for the quarter.
Our final return of 9.16 was reflective of all our missed opportunities.
Fortunately, other results on the weekend went our way, keeping us a game and a half ahead of Old Xavs and Old Melburnians with two to play.
A win at home next week against Old Melburnians will guarantee finals footy.
Final scores: De La Salle 9.16.70 lost to Collegians 11.12.78
Reserves
by Jack McDonald
The twos arrived at Harry Trott Oval looking to continue their improved form from last week.
Surprise, Surprise we were a little short on the bench. We started with three on the bench after a late withdrawal.
The conditions changed from torrential rain to bright sunshine in just 20 minutes and our boys started the game well, leading by seven points at the first change.
We busted the game open in the second, with quick ball to our forwards leading to a six goals to two quarter. Steve Hogan kicked five in the second quarter, a great effort. At half time we were ahead of Collegians by 31.
Schipione, Williams and Morris were outstanding in the midfield and our back six were strong all day.
We knew Collegians would come out hard after the main break and that they did. The won the quarter 4.3 to 1.1 but we held an 11 point lead at the final turn.
In the huddle we spoke about fighting the game out – we'd worked so hard to be in a good position. We urged the boys to play brave footy, back themselves and play our brand.
Oscar Perssson did an enormous job in the ruck, Liam Bisognin produced a smother which resulting in a goal that lifted the whole team.
We had no passengers. Harry Jarvis and Aiden Wood had their best games for the year and as usual our leaders did what they had to do. As a group we defended right to the end.
We finished with one on the bench and won the game by two points. I'm proud of all the boys, who were truly brave. A great team effort.
Onwards & Upwards!
Final Scores: De La Salle 11.6.72 defeated Collegians 10.10.70
19 Blues
by Nick Hyland
The Blues were looking to build on our great win last week with another strong performance against Old Scotch at home.
We were presented with wet and muddy conditions for the first time this year. Scotch had nothing to lose and we had everything to play for, with a top two spot up for grabs.
The game never lived up to any great heights – it was a scrappy affair and a tight goal-for-goal tussle all day. For three quarters Scotch outworked us and had it not been for some ineffective ball use, they could easily have had the game stitched up.
To our credit, we hung tough. We weren't playing anywhere near our best footy, but the boys stuck to the task.
O'Callaghan continued his good run of form with another strong captain's performance while Hawker was proving critical forward of the ball.
Fortunately for us, we were able to do enough and get over the line by two points. It wasn't the ideal performance, but sometimes you have to win ugly and good teams find a way to win when they're not playing their best football. We must improve and come mentally switched on every week.
Best on the day were O'Callaghan, Hawker, Ahearn and O'Connor.
Our final game takes us out to Essendon and St Bernard's, who are coming off a good win. We need to play our brand for four quarters as we look to build momentum leading into finals.
Final scores: De La Salle 10.3.63 defeated Old Scotch 9.7.61
19 Golds
by Martin Kelliher
It was an extremely lacklustre performance from the Golds in their last home match of the year, drawing with a determined and clearly 'up for it' Old Scotch.
The game was last roll of the dice for our opponents, who were playing for their football finals future. They needed a win to stay in the hunt for that last finals spot.
After a number of weeks playing some very good footy and consolidating the double chance for the finals, it was perhaps inevitable that our work rate could drop, and so it was this match.
This was not a game that will linger long in the memory of those watching. Despite it being close all day it was scrappy, slow and error riddled.
We were pretty well beaten in a number of areas as the Old Scotch team played with aggression, enthusiasm, led us to the ball, were strong in the tackle and were being encouraged by their vocal and enthusiastic coach.
In comparison, we relied on the efforts of a few. We looked disoriented, lacked our usual cohesion with ball in hand and were not working hard enough.
After a couple of indiscretions and ill-disciplined play from a few of the Old Scotch boys it looked like we had wrested control halfway through the last quarter, skipping away to a 15 point lead. But we relaxed and allowed Old Scotch to square the scores up.
With less than 10 seconds to go we could indeed have pinched it, but to be honest it would have been an injustice. We escaped with a draw and subsequently knocked Old Scotch out of finals.
Our better players were Watson, Christiansen, McDonald, Antonucci, Canny, Ingram and Northey.
What we can be assured of is that we can't afford to repeat that effort over the next few weeks, we'll be punished by better sides. On the positive side though, to pay this poorly and somehow escape with a draw is reflective of the spirit in the group.
We will need to be better next week in our last home and away game as we venture out to the snakepit and take on a resurgent St. Bernard's.
Final scores: De La Salle 8.3.51 drew with Old Scotch 6.15.51
Colts
by Steven Ingram
We played the last placed Fitzroy, who have been struggling but were invigorated with a number of school boys coming into the team.
Conditions at Waverley were not great. There was a lot of water sitting on the ground and the pitch area quickly became mud.
We started well, played some good footy and kicked 6.4 to nil to set up the game. Tom Vance was providing a good target up forward and we were winning the contested ball.
The second quarter was not great or attractive to watch and we needed to refocus at the main break and get back to winning our own ball.
Our intensity lifted in the third, but we were wasteful in front of goal and maybe selfish at times as well. We kicked 1.8 with another couple missing the target completely.
We were down on numbers and had a few injuries, playing the last quarter with only 18 including a few sore boys on the ground. We battled hard and with the rain coming down it was a bit of a slog as both sides tired in the heavy conditions, but we got the win.
Our better players were T Vance, L Armstrong, Joel Caruso, Nick Jarvis and Ruben Beeby.
It's a big game this week when we take on fourth placed MHSOB at home prior to the senior games.
Final scores: De La Salle 13.18.96 defeated Fitzroy FC 1.4.10
Warriors
by Rob Breda