Coaches corner week 18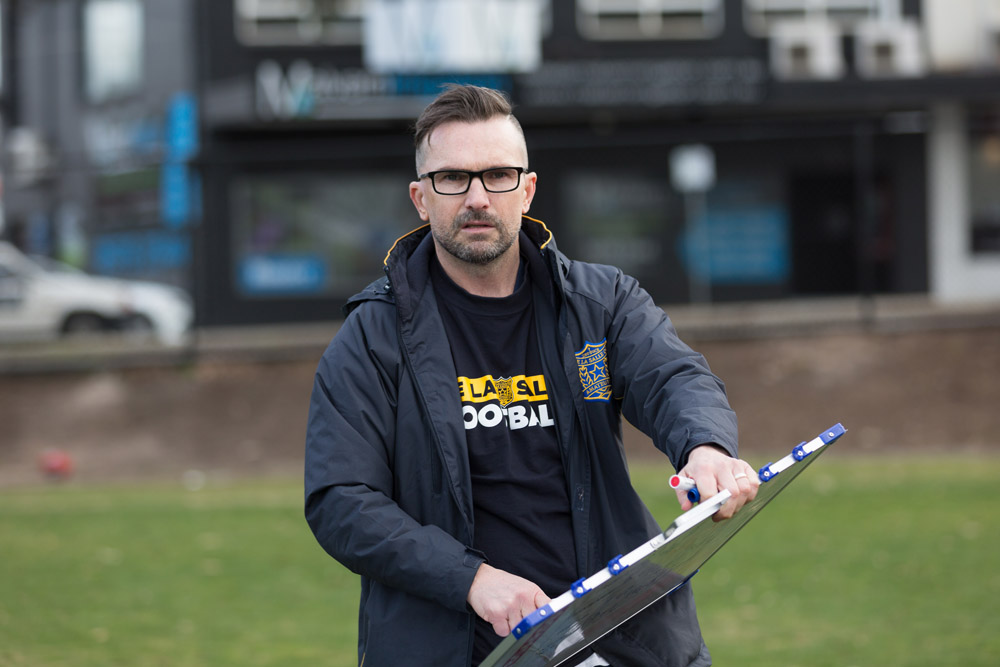 Seniors
by Paul Satterley
In the final game of the year, we took on third placed Uni Blues as we celebrated our co-captain Sam Williams' 200th game for the club.
We started well again but were unable to capitalise on our forward 50 entries, kicking 2.5 to 1.4.
In the second quarter we were really poor, conceding nine goals and allowing the Blues to get out to a 24 point lead at the main break.
We responded well in the second half by outscoring our opposition 7.6 to 4.4. In total, we won three of the four quarters and we did hit the lead in the last, but a goal to Blues with only two minutes left got them the win and also moved them up to second on the ladder.
In the end it was a disappointing result as we missed our opportunities.
Michael Chippendale was a standout in defence, Chris Robinson was also solid whilst Matt Cullinan with three goals was dangerous up forward.
The result means we play Collegians in the Elimination final next week. We hope to see all De La supporters cheer our lads to victory.
Final scores: De La Salle 13.12.90 lost to Uni Blues 14.10.94
Reserves
by Jack McDonald
To say it was going to be a tough day would be an understatement – with 27 players unavailable due to injuries, work commitments and family matters it had a heavy impact on the reserves numbers.
We eventually found 17 players. Three of those boys were Tom Brasher, Dan Brasher and Jordy Brasher, the Brasher name lives on at De La.
Uni Blues were top of the ladder and would show no mercy .
Regardless of the final score, I must applaud every person that put on the De La jumper in the reserves this weekend. At one stage it looked like we would not field a side and the character of these blokes was outstanding, so thanks to all.
Led by our Captain Ryan McDonough and backed up by his brother Garrett the boys never gave up. Ryan kicked one of our goals and young Jordy Brasher the other. James Tran, Harry Morris, Mason Martinez and Steve Hogan all fought hard.
It's been such a tough season for the twos. We haven't had much luck but despite this, we have seen plenty of improvement in the playing group. Some of the boys have played twos footy are now adding to the seniors depth, with Liam Bisognin a late call up for his first senior game this week.
Some may say it's been a disappointing finish but I'm not one of those people. We are young, we will improve and I can't wait for 2018.
We're all looking forward to all sides that are in finals contention and I'm confident we will see some success.
Before I go I must thank the senior coaching group, the trainers, the committee, Macca and Rod Beaumont. Mick Hogan and Craig Chester have been enormous for the twos. Many thanks to both of them.
To the playing group who fought so hard, I really appreciate your efforts.
To Coin A Phrase… I Love Youse All!
Final scores: De La Salle 2.2.14 lost to Uni Blues 31.20.206
19 Blues
by Nick Hyland
It was third v fourth in a second semi final. Our biggest game of the year thus far. A bumper crowd rolled into the Dairy dome to watch the do-or-die clash against St Kevin's.
We were bolstered by the inclusion of Banger Murphy and Dimi Fasoulis and we had picked 24 young men who we knew would give their all for this team.
Kicking with a slight wind in the first quarter, we were able to take advantage. Like a typical final, the pressure around the ball was intense early. We got the ball in deep to dangerous areas and our forwards rewarded our work with six first quarter goals. What was disappointing though was our willingness to defend. We were exposed early and conceded four easy goals.
The second quarter was played on SKOBS' terms. They beat us around the ball and their work rate was far superior. They took full advantage of us being off our game and slammed on six goals to two to take a 10 point buffer into the main break.
We made a couple of positional changes at half time, giving specific roles to Aitken and Mackie to hopefully change the momentum. The wind had died down in the second half and it was a high scoring, entertaining contest. We felt like we were turning the momentum and were running on top of the ground. We were hurt by a SKOBS goal on the siren, swinging the momentum once again. We took an eight point lead into the final break.
The boys were challenged to continue the take the game on and be positive. SKOBS smashed us early in the final quarter and slammed on the first two goals of the quarter. To our boys credit, we didn't drop our heads. We stuck to what we know and continued to work hard.
We slowly wrestled momentum back and our dangerous forwards, Fasoulis and Leontaritis were proving to be quite a handful for the opposition and making the most of our opportunities. We finished the game strongly – outrunning and outworking the opposition right to the end.
In the end a hard fought, well deserved 19 point win brought about by a fantastic team effort from the entire playing group.
It was a successful day for the club, but by no means are we satisfied. We know we are not finished yet and we have another big assignment next week which we will embrace and prepare thoroughly for.
Final scores: De La Salle 18.14.122 defeated SKOBS 16.7.103
19 Golds
by Martin Kelliher
A win, a week off and into the grand final where we look forward to getting the job done. This was a win exemplified by a combination of a willingness to embrace the contest, a strong work rate from the players coupled with a never say die attitude.
At the end of a tense and quite long last quarter we recorded a terrific five point win over a very strong SKOB team.
The match was played in great spirit between two evenly matched teams fighting a tight contest all day which could have been won by either side.
From an impartial perspective it would have been a great game to watch, as not only was it close, it was contested, hard footy with bursts of both team and individual efforts to break the play open.
The final result was probably determined by the team which was able to withstand the pressure for longer, be more clinical at clutch times and make better decisions.
After a 34 minute last quarter, it was De La who came away with the win much to the relief of the players and coaches.
We opened up kicking with the wind to the cricket nets, but it took us 14 minutes to register a goal when Pat Hounihan kicked truly on the run. This was followed up by some quick goals to Cook and Kelliher to give us a three goal buffer at the opening break.
We were resilient in the second and our defence led by Squires, Harrington, McDonald and Simons restricted our opponents to three goals whilst having plenty of opportunities ourselves – some which we took, others where we should have taken advantage.
We dropped off our work rate in the third to put ourselves in a precarious position chasing the game. We made some radical changes with Kelliher going to defence, Squires into the middle and Watson loose across half back.
With a renewed resolve, we were led by skipper Big Mike Canny's tireless work alongside Jordy Gregory, Josh Ingram and Danny Melissinos.
At the opening bounce of the last, Ricky Rando burst clear to get the ball deep into the forward half and we scored. That gave us momentum and we kept pressing whilst our defence were holding firm in the last.
At one stage our lead in the last was just under two goals, but when SKOBS kicked a goal with allegedly four minutes on the clock it was always going to be tight.
Despite the timekeeper losing his stopwatch and somehow there being eight more minutes of time, we held on to record a great win.
Our better players were Canny, Squires, Gregory, Ingram, Simons, Monkman and Cook.
We now have a week off and we look forward to taking on the next challenge and importantly supporting the Colts and Blues as they keep their seasons on track.
Final scores: De La Salle 10.5.65 defeated SKOBS 8.12.60
Warriors
by Rob Breda
The Warriors made it through the grand final on the back of a strong season and went into the match confident that we had what it took to topple Old Scotch, who finished minor premiers.
Kicking into a swirly breeze in the first quarter, we toiled hard and held our own for the first 15 minutes but quick goals to Scotch hurt us on the scoreboard.
In the second term we were set to make our run but we were unable to bridge the gap and put some scoring pressure on the opposition.
We fought hard to the end but at the end of the day, Scotch had our measure and ran out comfortable winners.
We would like to thank the club and all the supporters for a great season. While we couldn't get the final result we wanted, we came together as a team and had a great season.
Final scores: De La Salle 2.6.18 lost to Old Scotch 10.16.76