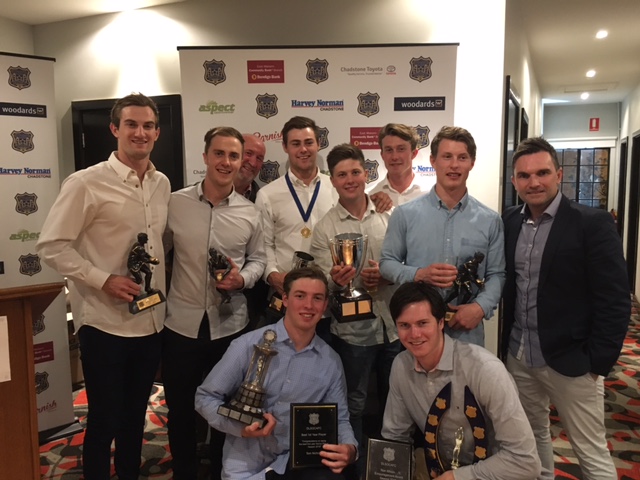 De La Salle Best and Fairest Awards
Congratulations to all of our award winners who were recently crowned at the club Presentation Night, held with the support of our proud partner, the Racecourse Hotel.
Our senior best and fairest added the award to his trophy cabinet for the third time, in Tom 'Puck' Humphrey. May all of our winners have an outstanding 2017!
Season 2016 Awards
 Seniors
| | |
| --- | --- |
| Barry Lyons – Best & Fairest Award | Tom Humphrey |
| Runner Up | Sam Williams |
| Ralph McHenry – Most Consistent Award | Hugh Nicholson |
| Most Improved | Nick Curwood |
| Best 1st Year Player | Tom Nicholls |
| Coach's Award – Seniors 2016 | Brendan Close |
Reserves
| | |
| --- | --- |
| Colin Glover – Best & Fairest Award | Harry Haley |
| Runner Up | Daniel Close |
| Most Consistent | Hamish Curtis |
| Coach's Award | Dan Anastasiou |
Thirds
| | |
| --- | --- |
| Kieran O'Donnell – Best & Fairest Award | Josh Oakley |
| Runner Up | Dan Prendegast |
| Most Consistent | Nic Fyfield |
| Coach's Award | Sefton McGraw |
Under 19 Blues
| | |
| --- | --- |
| Jack Sullivan – Best & Fairest Award | Mason Martinez |
| Runner Up | Sam Pennell |
| Most Consistent | Liam Bisognin |
| Coach's Award | Darcy Roberts |
Under 19 Golds
| | |
| --- | --- |
| Rob Smith – Best & Fairest Award | Harry Morris |
| Runner Up | Harry Jarvis |
| Most Consistent | Ben Ahearn |
| Coach's Award | Aiden Wood |
| Best in Finals | Tom Defterous |
Under 18 Colts
| | |
| --- | --- |
| Martin Kellher – Best & Fairest Award | Zac Grundmann |
| Runner Up | Jack Squires |
| Third Place Best & Fairest | Harry Bowen, Michael Jakes, Trent Shannon |
| Best in Finals | James Bailey |
Special Awards
| | |
| --- | --- |
| Bernie Sheehy – Senior Outstanding Achievement Award | Jake Williams |
| Tony O'Callaghan – U19 Outstanding Achievement Award | Matt Colak |
| The President's Trophy | Jennie Loughnan |
| Peter Strickland – Best Clubperson Award | Sally Fyfield |
| Paul Carlson Memorial Award | Rob Breda |
| Ron Wilson Encouragement Award | Andrew Walker |
Game Awards
| | |
| --- | --- |
| 100 Games | Nathan Beaumont, Harry Haley, Sam Haslem, Daniel Keely, Simon Moloney, Hugh Nicholson, Jon Stinear Jack Vickers |
| 150 Games | Beau Hill, Aaron Kneebone, Tom Kovarik, Tyson Parker |
Super Rules (aka Dinosaurs)
| | |
| --- | --- |
| Best & Fairest | Peter Harrison |
| Runner-up | Andrew Mackintosh |
| Most Consistent | Ben Corin |