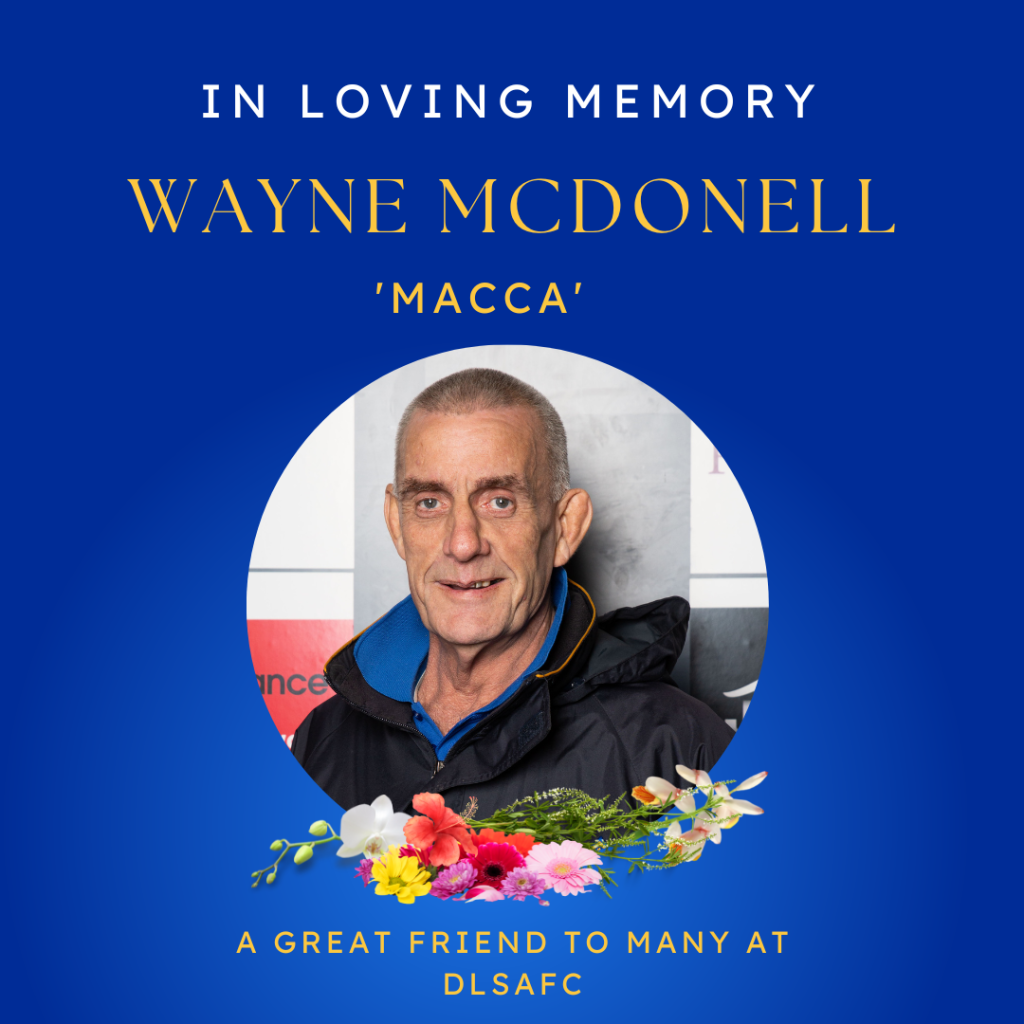 Wayne McDonell passed on Wednesday 25th January, after a brave fight with cancer. He was surrounded by family and passed away peacefully. During his time at the Club, Macca became a well-loved and permanent presence. He was awarded Life Membership and numerous other awards for his on-field and off-field successes and was proud to have his daughter Grace playing for the Club.
Affectionately known as Macca throughout the Club and wider VFA competition, his body of work and preparation for match day, while serving as Team Manager was second to none. He will be missed not only for his role at the Club, but also for his friendly presence and affection for the players.
Another Club stalwart, Treasurer Roy Meiklejohn had this to say about his great mate. "Always willing to lend a helping hand above and beyond the call of duty as Senior Team Manager, from ground set up, cleaning player rooms, player jumpers, footballs, ordering jumpers, player shorts and socks etc. He was awarded the President's Trophy in 2012, Best Club Person in 2013 and Life Membership in 2019. Wayne loved the Club and was respected and loved by the players and supporters. Will be sorely missed by all. May he rest in peace after putting up a brave fight."
Long-time servant of the Club Colin Glover recalled, "I was Senior Team Manager 1996-2013. I thought I had done a pretty good job but when Wayne McDonell took over the role, he took it to an entirely greater dimension. Attending to supplies for training sessions, ensuring with others, of compliance with ALL VAFA lodgement rules, and if necessary, the covering of the centre wicket area.
Nothing of importance to the successful functioning of our Club escaped his attention. He was a vital part of the Club's administration which was held in high esteem by the VAFA. Macca was the embodiment of the saying " If you want something done, correctly, ask a busy person. Well done mate. We will miss your work & presence immensely. Irreplaceable!!"

Brian Waldron mentioned that he was an "unbelievable servant of the place but also a damn good player that included the 1984 premiership and state representation. An incredible outpouring on social media from players and coaches over the past 20 years. Will be greatly missed."
Wayne McDonell's Club Honours:
52 Senior Games
Premiership Player
6 Reserves Games
Best Club Person
President's Award
Life Member
Seniors Team Manager
Please join us in celebrating Wayne McDonell's life on Friday the 10th of February at 2:30pm at La Pine Funerals (339 Warrigal Rd Burwood)
Drinks to follow at De La Salle football club (Waverley Oval) from 4:30pm onwards
If you are unable to attend, you can watch the service here: Funeral Livestream Link