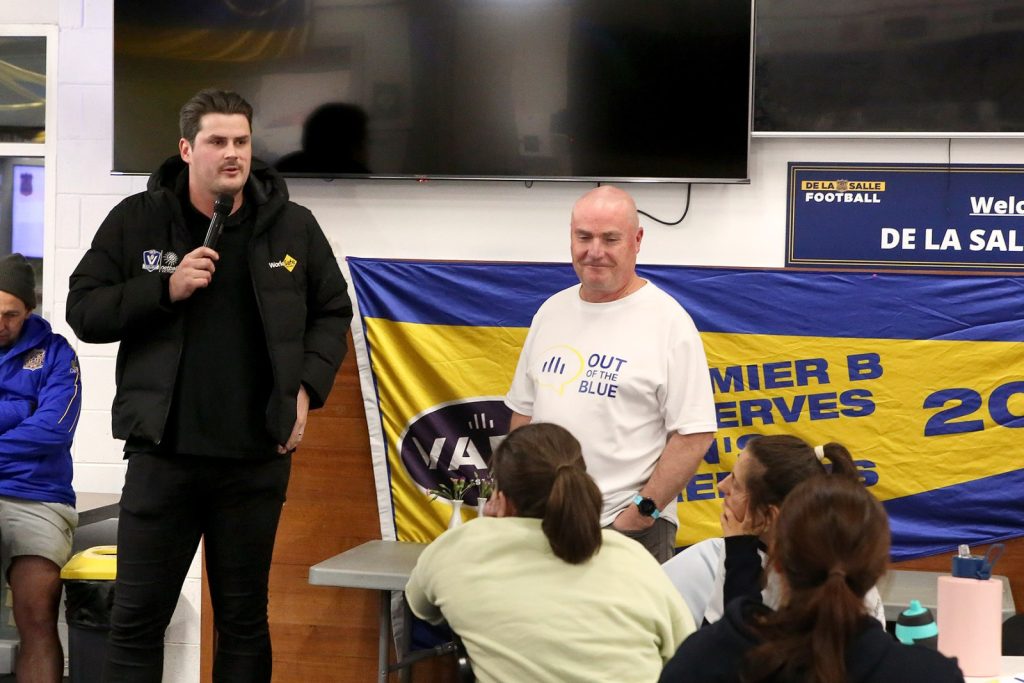 Former AFL player Tom Boyd joined us last week after training, as part of our Mental Health & Wellbeing program, Out of the Blue.
The program aims to provide players and staff with tools to keep mentally fit, which the club sees as just as important as physical fitness.
Tom had a successful career as a young AFL player, picked in the 2013 draft by the Greater Western Sydney Giants, then moving to the Western Bulldogs in 2014. At 18 he was offered a deal to earn $7 million, over 7 years.
He was part of the Bulldog's winning premiership team in 2016 and announced his retirement from AFL in 2019, at just 23, after taking time off to recover from panic attacks, insomnia and depression, which he largely had kept to himself.  He had been constantly getting sick and experiencing recurrent soft-tissue injuries.
 'The adrenaline high that comes after a night game that can make sleep harder, and the rigours of training. I hadn't slept for weeks. I couldn't concentrate, I couldn't even get through a game.'
While he believes a lot of progress has been made around reducing the stigma of mental health, he feels it was hard for him to talk up, not due to feeling ashamed, but because he didn't understand his anxiety, insomnia and the feeling of always being stressed, which could be easily explained as homesickness. And he believed his mental health issues would just fix themselves.
'But things don't magically change unless we do something differently.'
'I think as an 18-year-old, most of my communication at that time was about the game, and practice. and I just didn't have the communication skills to make deep and meaningful connections.'
Tom also talked about the pressure he faced while living away as a young professional footy player.
'Drafting is a great opportunity…but things change quickly when you get drafted. I went from a school exam to a stage on the Gold Coast. You are a big fish in a small pond'.
And the difference between the perception of being one of the sports elite players, versus the reality. Things like not getting paid when he first started out if he had to miss a game due to injury.
'Next year's salary was based on how many games you played in the year.'
Tom's advice to the group, from his own experience, was to talk to each other when things are going well.
'Mental health hasn't been a component of community footy clubs…which are a place where people genuinely care about each other. But it's definitely starting to creep in over the past few years. Community groups are a key point of contact, where we choose to spend our time, so it's a place where we can positively affect people's mental health.'
'Often, we are told to look when people are 'not right,' but it's easy to hide. Talk about the good things and just say, if you ever have a problem, let me know. I don't know if I can help you with your problem, but I will support you in finding someone who can.'
After seeking help from a psychologist and receiving treatment for insomnia, he finished his career on a positive note, returning for a final season.
'My psychologist really just helped me to solve problems. Life doesn't get easy for any of us, by thinking 'well someone else has got it harder. I don't feel like I've solved all my problems, now, but I feel like I have the capabilities to solve what comes up.'
Tom says he has many great memories and feels proud of his football achievements and his teammates.
'I walked out with a smile on my face, on my own terms and walked into the next stage of my life.'
Tom now loves working in the sporting industry to increase the understanding of mental health and wellness, and he wrote a book about his experiences during Covid, "Nowhere to Hide".
He works as a WorkSafe Ambassador for Country Football and Netball awareness and education around regional Victoria,  is a Lifeline ambassador, and is a volunteer with the Western Bulldogs Community Foundation, as well as working part-time.
Thanks to Peter Harte for his fantastic interview session with Tom and to Jack Hanley for connecting Tom with the Club.