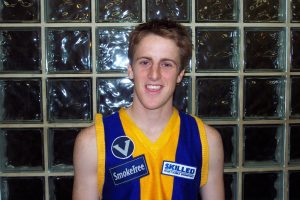 This Sunday, 15 May, the DLS Dinos and SKOB will be playing for the Anthony Molan Cup. The Cup is named after former DLS player Anthony Molan who passed away in 2003 after collapsing while playing in a Club 18 game against SKOB.
At the time Anthony passed away, he was a fifth year medical student and, as a result, had the imaginative nickname of Doc (amongst others, Tones, Ant and Moles…).
Ant loved the game of football and he loved playing for DLS and in particular the Warriors in the Club 18 competition. He enjoyed the physical contest of football, the team work and the camaraderie.
Ant had many great friends at DLS and a number of strong connections to SKOB. Since 2004, SKOB and DLS have played for the Cup on numerous occasions across different divisions. Every time the game is played in great spirit and this Sunday will be another occasion for Ant's friends and family to get together, remember him and catch up.
The game starts at 3.00pm. The canteen and bar will be open from 2.00pm.